In May 2011, as 13-year-old Julia sat in her junior high school classroom, her heart stopped.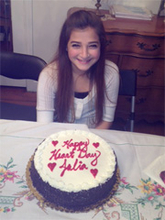 The school nurse, who just happened to be in the building that day, performed cardiopulmonary resuscitation (CPR) on Julia until the ambulance arrived.
"She was the first of our many special angels," says Julia's mom, Grace.
By the time Grace arrived, Julia was motionless on the floor, surrounded by the ambulance crew. As paramedics used CPR and an automated external defibrillator (AED) to restart Julia's heart, Grace called out to her daughter: "It's all right, Julia. I'm here — Mommy loves you!" Remembering that awful day, Grace can't control her tears.
"I kept telling them, I want her taken to CHOP. You have to take her to CHOP!" she recalls. "And one of the paramedics, he was so nice, he said 'Ma'am, we wouldn't take her any place else.'"
CHOP was exactly where the ambulance was headed.
Expert care at CHOP's Cardiac Center
Julia was a Children's Hospital patient long before her cardiac arrest at school in 2011. As a baby, she was diagnosed with dilated cardiomyopathy, a condition where the pumping chambers (ventricles) of the heart are abnormally enlarged and weakened.
Grace has lived in Philadelphia all her life — she knew there was only one place she could trust to care for her critically ill baby daughter. She and her husband, Francesco, brought Julia to the Hospital, and Cardiac Center clinicians have been treating her ever since.
Children's Hospital's Cardiac Center, a premier provider of care for infants, children and young adults with cardiac conditions, is one of the largest and most accomplished pediatric cardiac centers in the world. 
The center's team is made up of more than 125 experts, including pediatric cardiologists, cardiothoracic surgeons and cardiac anesthesiologists, and more than 700 support staff members who are specially trained in caring for children with congenital heart disease, including nurses, respiratory therapists, social workers, psychologists and child life specialists. 
Together, this team cares for thousands of children with heart conditions each year.
Monitoring through the years
Dilated cardiomyopathy can cause electrical activity disturbances in the heart, called arrhythmias, that can be life-threatening. 
Julia came to the Cardiac Center for annual follow-up appointments with her pediatric cardiologist, Jack Rychik, MD, and took medications every day. She also received regular echocardiograms and electrocardiograms to monitor her cardiac tissue, valve function and electrical output.
Because of the dilated cardiomyopathy, Julia got tired a bit more quickly than her friends, but she never let that stop her. Like most young girls, she loved music, especially today's pop stars, and taught herself to play their songs on the guitar.
Life was good.
But in early 2011, at a regularly scheduled echocardiogram, the team at CHOP found her heart condition had worsened. They increased her medication and stepped up the rate of monitoring. Julia's condition seemed to stabilize. 
Waiting for a heart transplant
Three months later, Julia suffered the cardiac arrest. She was admitted to CHOP that day and would remain in the Hospital until she could receive a heart transplant. She was at risk of experiencing further life-threatening arrhythmias and needed to be monitored closely.
The Cardiac Center Transplant team — including Kimberly Lin, MD, Robert Shaddy, MD, Stephen Paridon, MD, Karen McCandless, CRNP, and Rachel Ryan, RN — collaborated to provide her with the skilled care she would need to survive as she waited for a new heart.
Julia's family knew that because of the nationwide shortage of donor organs, they could be in for a very long wait.
As the weeks passed, Julia participated in many activities organized by the Child Life, Education and Creative Arts Therapy department at Children's Hospital. Child Life provides patients with supportive, fun and creative activities to minimize stress and help them cope with hospitalization.
Julia played the guitar as pop star Selena Gomez sang her hit song "Who Says." In July of 2011, when Child Life helped launch Seacrest Studios, an interactive multimedia center brought to CHOP by the Ryan Seacrest Foundation, Julia accompanied visiting pop star Selena Gomez on guitar as Gomez sang her hit song "Who Says."
Julia's new heart
Meeting Selena Gomez was an exciting day for Julia, but the true highlight of her Hospital stay came several months later, on Nov. 21, when she and her family finally received the news they had been waiting for: a heart was available!
By that point, Julia had been in the Hospital for six months.
"It was kind of a shock, because we'd been waiting so long," Grace says. "It's really bittersweet: you're happy, but you're also afraid."
The hours leading up to the transplant were "intense," she adds, but the family had the support of the entire Cardiac Center team, including Julia's cardiothoracic surgeon, Stephanie Fuller, MD, and Meredith McDonough, a child life specialist who works exclusively with Cardiac Center patients. McDonough understands cardiac patients' unique needs and was a huge source of support for Julia during her six-month hospitalization.
"Meredith even came back to CHOP after hours to make sure she was with Julia before she went into the operating room," says Grace. "She didn't have to do that. Everyone at CHOP is amazing."
Shortly after midnight, Julia was taken into the operating room where she would receive her new heart. The transplant went smoothly.
Less than 24 hours after she received her new heart, Julia was walking the halls of the Evelyn and Daniel M. Tabas Cardiac Intensive Care Unit (CICU), and 10 days later she went home.
Friends arranged for a limousine to pick her up at the Hospital, and when she got home, she was greeted by a crowd of cheering classmates, many of whom were wearing "Team Julia" shirts. Her life with a new heart was off to a truly spectacular start.
Life with a new heart
Now a 14-year-old high school freshman, Julia "is doing great," says Grace. "Nothing stops her."
Julia tried out for and won a spot on her school's cheerleading team for next year. This summer, she'll attend Dragonfly Heart Camp, a special camp for children who have cardiac or pulmonary conditions, for the second time. She loves going to concerts, going out to eat, and hanging out with her friends.
"She does everything a normal kid does," says Grace.
Julia continues to come to Children's Hospital often for follow-up visits and will need to take medication for the rest of her life. And as she and her family look toward the future, they take comfort in the fact that the CHOP team will be there for them along the way, for all the challenges — and the many joys — that surely lie ahead.
"They all hold such a special place in our hearts," says Grace. "Especially in Julia's heart."

Originally posted: April 2012