Research Shows Saliva Reveals Asthmatic Kids' Smoke Exposure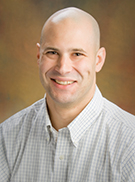 James Kreindler, MD January 20, 2014 — For children with asthma, being exposed to cigarette smoke can lead to repeat hospital visits. A new study found that saliva tests are an effective way to detect whether a child has been exposed to smoke. In a recent Reuters article, CHOP's James Kreindler, MD, commented on the implications of this new research and considerations regarding implementing saliva testing in a hospital.
"The take-home message should always be that exposure to secondhand smoke for both adults and children is a significant health risk factor — particularly for children with asthma and respiratory disorders," Kreindler said. "They should not be exposed to secondhand smoke under any circumstance."