Emergency Room vs. Urgent Care Center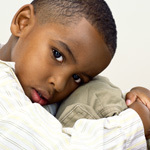 Your child has a bad cold that won't go away. She sprained her ankle. He's having an asthma attack. Head to the emergency room? Not necessarily.
An urgent care center can handle many of these and other conditions — conditions you might think are better suited for an emergency room. However, the emergency room is designed to provide fast, life-saving care, and while you may feel the urgency of your child's issue, it may not meet the medical criteria for an emergency room.
CHOP's urgent care centers
The Children's Hospital of Philadelphia has two pediatric urgent care centers, one in Mays Landing, NJ, and one in King of Prussia, PA, both staffed by a dedicated team of board-certified physicians and nurses with special training in pediatrics who are ready to treat a host of injuries or illness. Illnesses and injuries such as:
Abscess care
Allergic reactions
Asthma
Broken bones
Coughs, colds and sore throats
Cuts or minor gashes
Dehydration
Ear aches
Fever in babies younger than 2 months
Removal of ticks, splinters, hooks and other sharp objects
Headaches
Minor burns
Minor head injuries
Foreign objects in the ear or the nose
Pink eye
Rashes
Sports injuries
Sunburn
Urinary tract infections
Vomiting and diarrhea
Unfortunately, sometimes you will be faced with a true emergency and need to take your child to the emergency room. Here are some of the top reasons to visit the ER:
Poisoning
Burns or smoke inhalation
Choking
Sudden impact injuries such as from a car or bicycle accident, or falls from heights
Near drowning
Electric shocks
Frequent trouble breathing
Blue or purple skin or lips
Bleeding that you can't stop
Seizures
Losing consciousness
Any change in behavior following loss of consciousness, especially after a head injury, including vomiting, disorientation and headache
Loose or knocked out teeth or other injuries to the mouth or face
Steadily decreasing responsiveness