CNN Features CHOP Craniofacial Program Patient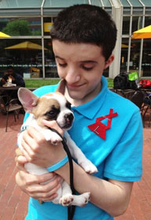 Danny and Lentil July 2, 2013 — Danny Pfeiffer, a patient treated by the Division of Plastic and Reconstructive Surgery's Craniofacial Program, is teaming up with Lentil, a puppy with a bilateral cleft lip and palate, to raise awareness for craniofacial differences.
Pfeiffer, 14, has Saethre-Chotzen syndrome, a craniosynostosis syndrome in which the skull bones fuse prematurely, preventing the skull from growing normally and affecting the shape of the head and face. He has undergone multiple surgeries under the care of Jesse Taylor, MD, and the team from the Division of Plastic and Reconstructive Surgery.
His bond with Lentil has helped him deal with the challenges that come along with his surgeries and facial differences, and together they are offering support to other patients with similar conditions.